Robert Michener at Surrey Art Gallery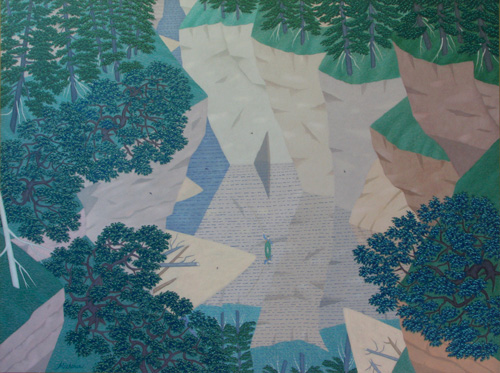 The limestone walled creekbeds of Robert Michener's Minnesota boyhood are the inspiration for his The Gorgeous Gorges landscapes, a series informed by the artist's interest in traditional Chinese landscape painting and his early devotion to abstract expressionism.
Rendered in subtle greens, blues, and pinks, Michener's oil on linen works capture a mood of tranquil contemplation, the sublime moment of being at peace within the natural environment while simultaneously acknowledging the grandeur of geologic formations and the unruliness of the wilderness experience.
Although these paintings echo the 63-year-old artist's memories of the wooded ravines of the Root River Valley, the paintings present more than idealized locale softened by the passage of time. The Gorgeous Gorges are interactive experiences that encourage viewers to enter Michener's spatial logic, to view the landscape both aerially and from the diminished advantage of the human figure or marker he has placed as a small-scale reference to the enormity of his illusionary strategy. In Fishing At First Light (1997), for example, the point of view appears to be from a cliff high over the calm water of a deep canyon pool. But Michener's manipulation of perspective, his close-up, formalized rock faces, crisply detailed foliage, and flattened shadows leaves us wondering exactly where we stand, physically and emotionally, in the natural landscape.
In the catalog accompanying this exhibition curator Liane Davison notes that writers as disparate as Hemingway and Wordsworth have eulogized the flowing mountain stream as a source of healing from the wounds of living, of love and war. Looking at this series of paintings, it is not surprising to learn that Michener believes the greatest issue facing humanity is the destruction of the environment or that his intention in The Gorgeous Gorges series is to portray "a gentler, more reciprocal relationship with nature." His dwarfed distances, relaxed realism, and his superb use of line, color, and composition work in harmony to create the 'spiritual places' of elemental majesty.
Paula Gustafson May '98