INTRODUCTION TO GORGEOUS GORGES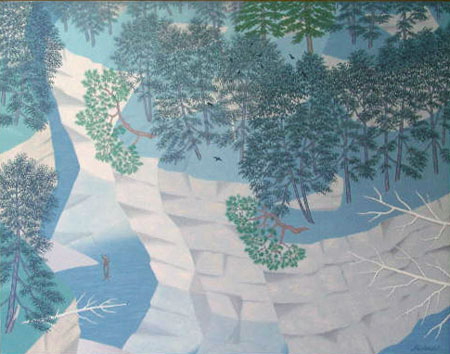 There are moments from our childhood that we carry with us throughout our lives. How we see the present is often coloured by how we remember our past.
When I remember my own childhood's perfect moments, among them are times spent in a bird sanctuary at the lakeshore, under willow trees and far away from the city and its confusing pressures. I've realized that I keep a picture in my mind's eye of that particular place, together with its particular sound and smell, with surprising clarity. It is because of this memory, of feeling safe and intimate with nature, that I appreciate the intentions of Robert Michener's paintings of a remembered place from his boyhood.
City living can quickly distance us from an intimacy with nature. Familiarity with wilderness can easily become limited to what we might see on the t.v. or on ads for four wheel drive vehicles. Weekend drives in the country don't offer the deep experience that we might long for, but rather brief, voyeuristic, and distanced views. A deep, intimate experience, of being "in the moment" with nature, is usually only achieved during a sustained, quiet activity, such as hiking, canoeing, or fishing, particularly fly fishing.
Michener's own childhood was spent in a small town in Minnesota. After school he often hopped on his bike with his fishing rod to visit a favorite creek. There he would spend time, deep in the dramatic limestone gorges and ravines, until dark or suppertime whichever came first. Fly fishing has been a passion of many men (and more often now, women) for generations. Movies such as Robert Redford's "A River Runs Through It" capture both the artistry and peace that fly fishing offers. Writers such as Hemingway, particularly in the "Nick Adams" short stories, remember fly fishing as a way of healing oneself from the wounds of living, of love and war.
For Michener, his recent paintings are both a means of recapturing the experience of being a young man, and acting out an ageless ritual of engaging with the land and wildness. In all his landscapes, the fisher (and sometimes bather) is made minute within the grandeur of the cliffs and river banks. The planes of colour Michener fashions to create the land and the dappled patterns of vegetation envelope the figure. Although the landscapes are, in the end, inventions of Michener's imagination, they are made to represent both the difficulty of accessing nature and the healing, supportive environment that it offers.
William Wordsworth, known for his poems about pastoral scenes and the joy of living, created the poem, "The River Duddon" in 1820 which used a stream as its narrative thread. Part XXVI captures some of the romanticism expressed within Michener's paintings: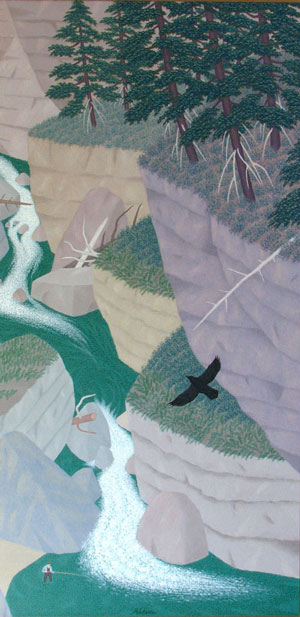 RETURN, Contented! For fondly I pursued,
Even when a child, the Streams -- unheard, unseen;
Through tangled woods, impending rocks, between;
Or, free as air, with flying inquiest viewed
The sullen reservoirs whence their bold brood -
Pure as the morning, fretful boisterous, keen,
Green as the salt-sea billows, white and green -
Poured down the hills, a choral multitude!
Nor have I tracked their course for scanty gains;
They taught me random cares and truant joys,
That shield from mischief and preserve from stains,
Vague minds, while men are growing out of boys;
Mature Fancy owes to their rough noise
Impetuous thoughts that brook not servile rains.1
Michener has written about the inspiration for his paintings: "This was the environment I loved as a boy... Through the years of my adolescence, much of my happiest time was spent roaming that world hiking, fishing, hunting and bird watching. Memories of those wooded hills, valleys, streams and cliffs form the basis of my present series of painting." The gorges paintings, like his earlier landscape series, aspire towards more than mere representation of a boyhood memory. He writes "My intention is to create visual symbols that articulate a viable relationship between humanity and to avoid what is clearly the greatest danger to civilization destruction of the environment."
Michener's words, and his art encourage us to see and feel nature and humanity, and value a harmony in their relationship.
Liane Davison Curator of Exhibitions and Collections, Surrey Art Gallery
Notes: 1. William Wordsworth; Selected Poetry Mark Van Doren, Editor. Modern Library College Edition, Random House, (New York. 1950), 657 2. Excerpt from a letter to Liane Davison, January 12, 1997